I would like to thank Scarlett for this awesome award!
The Ring and I will cherish it!
Click on the award to go to Scarlett's page.
Welcome to the
Women's Ring'o
Webpages!
Welcome to my (hopefully) unique web ring.....The requirments?

               You must be a female.
               You created your own homepage.
               Your homepage is decent (I don't mean fantastic....just good).

If you are already part of the Women's Ring'o Webpages, and need to edit your site's attributes
(URL, your e-mail address, site description, or password),
enter your site ID and password below:

View the Queue or Add a Site.


In order to keep the queue lines short......
Please have the html and your ID number finished before adding yourself to the queue.
All applicants that don't have the required items up will be removed after two weeks.




---
Looking for a good set of graphics(Made these myself)....Send any my way....
And YES I would like them designed by a women! Thanks.
---


How to join the ring
Here are the steps that need to be followed to join Women's Ring'o Webpages.
Please follow them closely to preserve the integrity of the ring!


          Save a copy of the two Women's graphics you see below.
            It is advisable that you save your favorite (or the others below)
            As my pics change on whim!!!I call the one on the left Web.gif 
            and the one on the right Webnext.gif. 

          Add the below HTML fragment to your homepage.



          Or you can get the code here. 

               Change the e-mail address and name so that they are your own.
               Fill out the below form to register your site
                   and write down the Site ID number you are assigned. 
               This will put your page in the Women's Ring'0 Webpages 'Database',
                   where it will remain until you are added to the ring.
               This does not insert you in the ring; the actual insertion is done later. 


          Change the 6 references to
            http://www.webring.org/cgi-bin/webring?ring=rose&id=_____ 
            so that the id= is followed by your Site ID number. For example, 
            if your site ID is 123, the href should be something like 
            http://www.webring.org/cgi-bin/webring?ring=rose&id=123&next.
          E-mail someone in the ring and ask them to add you.
            Get a RANDOM Homepage here. 
          Your page will be reviewed to make sure it is 
            worthy of addition and make sure the Women's Ring'o Webpage HTML 
            fragment on your page is okay. 
          After reviewing your page and everything is set right. 
            You should then receive an e-mail telling you you've been added. 
          That's it! You should now be able to navigate the entire
             ring until to make it back to your own page. 
 

---
This Html was sent to me by Christine Beville, M.D.



You may change the TD background color and text to match your page.
Save the image first.
The Html for this image map is here.
---
These gifs were donated by Linda Bennett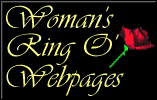 ---
---
These gifs were donated by Virtual Val
---
---
These gifs were donated by Minna
---
Optional Pics

This page hosted by
Get your own Free Home Page
© 1997